This is Skarlette's story...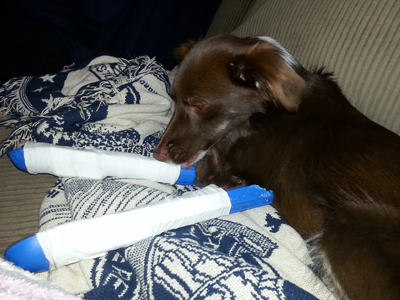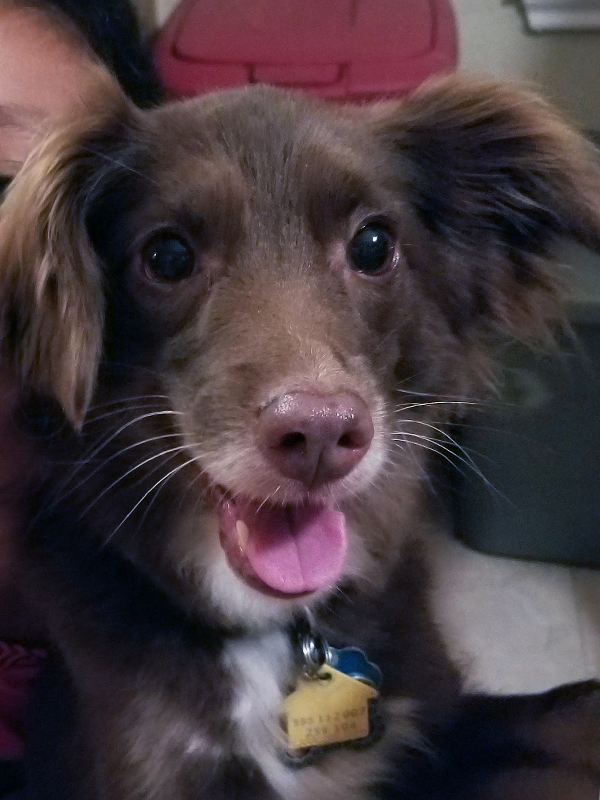 This little gal was just being a typical teenager, but unlike so many of us that have dogs that do dumb things, her stunt did not end so well for her. She went from the back of the couch onto a window sill. When she was told to get down instead of going back onto the couch - she bailed over to the floor and broke her leg.

She was rushed to the Vet and treated. The Vet thought that a splint might be enough to let the leg heal on its own since she is only 14 months old.

Soon the x-rays showed that the bones are not knitting as the Vet had hoped and referred them to a specialist for surgery and pins.

With a little research, we found out that the young family that owned Skarlette had just had some life-changing events that left them without any savings and struggling to pay the Veterinary bills. It looked like little Skarlette would have to wait to get surgery until the family could come up with half down. It seems this is a common practice in cases like this. The bill was going to be $3,500.00 for the surgery and much more for before and aftercare for Skarlette.

As a Facebook group, we banned together and set out to raise funds for this little gal to get her legs set with pins and screws. The outpouring of goodwill and donations was a moving experience for us and many others.

After the surgery we felt that other good hard-working families with Toy and Mini Aussies might find themselves in the same boat, so Skarlette's Fund was born.

If you would like to be part of this very unique project you can still donate money by using the links below, or by donating something we can use in the Facebook auction at Toy and Mini Aussies.
This happened on August 31, 2013. On October 10, 2013, Skarlette had surgery. With the kindness of others, the down payment was reached, and the healing begins. The surgery cost was $3500.



Should you find yourself in the same boat and would like our help with Veterinary expenses you can't pay upfront and your injured Toy/Mini Aussie will have to wait to have surgery please lets us know using the Contact page or by letting us know in our companion Facebook page and the Mini And Toy Aussies Facebook page.
Funding Guidelines
We know how much you love your pet and we wish we could help everyone. Unfortunately, funding is limited and Skarlette's Fund was established to help Toy and Mini Aussies and their owners with unexpected medical expenses when there is a financial need by the owner AND the treatment will result in a better quality of life for the pet after treatment is received.

When there is a situation where the Aussie has a good chance of being well, but the owner can't afford it, Skarlette's fund will help as much of the cost as possible. An application for assistance should only be submitted after the owner has used his/her own resources and has applied for a Care Credit card.

We will then assist the owner to the best of our abilities in donating/generating funds for the treatment, and making payment(s) towards the bill. The payment will go directly to the veterinarian. No money is ever paid to an owner.

Below are the general guidelines used in making funding decisions. Every request will be reviewed and Skarlette's Fund reserves the right to either grant or deny a funding assistance request without further explanation.

1) The pet must be a Toy or Mini Australian Shepherd.
2) The illness, injury, or condition must require immediate or prompt veterinary intervention in order for the pet to survive or maintain a satisfactory quality of life.
3) Veterinarian's prognosis and treatment should indicate a positive outcome.
4) The owner must provide documentation of a financial need by applying for Care Credit, then submitting documentation that states the amount of credit supplied by Care Credit or the denial of Care Credit.

In addition, final funding decisions will be based on funds available.

The following are not funded under our current guidelines. This should not be considered as all-inclusive:
1) Medical care for pets with a poor prognosis or already deceased.
2) Medical bills already covered by other resources.
3) Cancer diagnosis or treatments.
4) Spay/Neuter or routine medical care or vaccinations.
5) Dental Care.
6) Maintenance medicines.
7) Preventable diseases caused by a lack of vaccinations or a lack of veterinary care. Exceptions may be made on a case by case basis for owners who have purchased a new puppy from a breeder that did not maintain the puppy's health sufficiently or did not divulge prior medical conditions OR if the pet is a rescue.

It is expected that the pet owner will contribute to the cost of treatment to the fullest extent possible. Repayment of funds received is not expected or required, but we do ask that any pet owner that has received assistance from Skarlette's Fund "pay it forward" in the future by making a small donation when they are able. This helps to keep the fund going and help another Toy or Mini Aussie in the future.


You can find the Application by following this link. Application for Assistance Please return the form via email to

This email address is being protected from spambots. You need JavaScript enabled to view it.

or

This email address is being protected from spambots. You need JavaScript enabled to view it.
If you would just like to donate to our fund please use the Donation Button below.